Off-Season Greetings is a 2-part episode of Royal Pains. In part one Hank gets a dizziness problem after an explosion in a previous episode and needs a head scan.
  In the second part, Hank and his friend decide to go to Las Vegas for Evan's bachelor party (who is marrying Paige) instead of going to New York to see Spider-Man.
  Divya is sad about her relationship with Rafa, so Paige decides to take Divya to Las Vegas to see Rafa when they both meet up. While in Vegas, Divya and Rafa get married, but Divya doesn't want to "Stomp on Evan and Paige's wedding," so they don't tell anyone. Eventually, Divya tells Hank.
         When doctors have to make perform surgery (an incision in his back) to alleviate his post-concussion symptoms, Hank has a vision and he sees Boris is still alive. This ends the episode
Paige and Evan finally get married.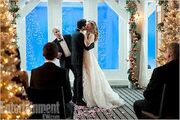 Ad blocker interference detected!
Wikia is a free-to-use site that makes money from advertising. We have a modified experience for viewers using ad blockers

Wikia is not accessible if you've made further modifications. Remove the custom ad blocker rule(s) and the page will load as expected.